Butchart Gardens: An Unique Example of Green Transformation
Saikat Kumar Basu1, Peiman Zandi2* and William Cetzal-Ix3
1UFL, Lethbridge, AB, Canada; 2IA University; Takestan, Iran; 3CICY, Mérida, Yucatán, México; *email: z_rice_b@yahoo.com 
The Butchart Gardens was established in 1904 in the Vancouver Island (Saanich Peninsula) British Columbia, Canada by an internationally renowned industrialist pair, Mr. Robert Butchart and Ms. Jennie Butchart. They initially operated an open cast limestone mine for industrial purpose; but, after the mine was abandoned they worked together with enormous dedication, sincerity and ingenuity to modify the abandoned mine into a spectacular floral garden that only mimics the realities viewed in a pleasant dream. They hired several renowned landscape designers and garden architects to help them design and expand their humble beginning into a world class botanical garden from scratch. They slowly over the decades changed their little known mine-garden into an internationally famous botanical garden popularly called Sunken Garden. The garden has been henceforth renamed as Butchart Garden to commemorate the inspirational work of the couple in meticulously engineering a creative environment and a classical botanical garden from a polluted industrial site in the early 20th century when environmental activism was not so well known and widely appreciated. In simple terms, they were pioneers in introducing the concept of positive green transformation (positive, long term, sustainable, environmental and social transformation) or in adopting the principles of eco-sociology for integrating economy and ecology closely together. The garden stands as an unique example for creating sustainable natural and social environment from an abandoned limestone mine.
The garden has different concentric lawns within the main campus decorated with wide spectrum of colorful flowers and foliages, numerous groves and ornamental meadows dotted with herbs, shrubs and trees introduced from all across the planet for example the Mediterranean Garden, Rose Garden, Perennial borders, the Italian Garden, Japanese Garden, Children's Pavilion, Rose Carousel, the famous 70 ft Ross Fountain and numerous art works from around the globe. The mini-boat ride for kids in the summer months, the tour of the greenhouse, evening light and sound entertainment, historic photo gallery, the Saturday fireworks are some of the potential attractions for innumerable tourists and visitors who visit the garden every year from all over the globe. Currently, the Butchart family operates and manages the garden and is a major tourist destination of the Vancouver Island off the Canadian Pacific coast. The garden represents unique collection of local and exotic ornamentals, herbs, shrubs and trees and several theme parks or gardens inside the 55 acres span of the Sunken Garden. This floral paradise is a rare example of ingenious nature of human mind in transforming an abandoned mine into a world class botanical gardens visited and appreciated by thousands of local and international tourists every year across the globe.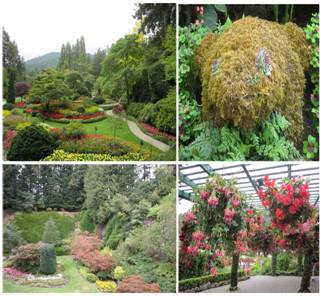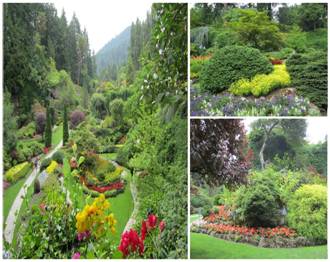 Fig 1: Different display section of the majestic Butchart Gardens.
                  Fig 2: Concentric gardens, meadows and grooves inside the famous Butchart Gardens.
References:
Basu S. K. and Sengupta, R. 2015. Ornamental plants: A tribute to human society for aesthetics, economics and environmental enrichment. Encyclopedia of Earth (EoE).
Basu, S, K. and Cetzal-Ix, W. 2015. Butchart Gardens: An example for positive socio-environmental transformation. ENVIRONEWS (Int. Soc. Env. Botanists).
Basu, S. K. 2014. Letter to Editor: Go greener. The Telegraph, Kolkata, India. December 28, 2014.
Basu, S. K. 2015. Butchart gardens: A botanical paradise on earth. Encyclopedia of Earth (EoE).